Wednesday, August 4, 2021 @ 6:30 PM
Demystifying Harrisburg: Requesting Information from State Government
Join us on Zoom or streaming live on Facebook Wednesday, August 4, 2021 at 6:30 pm for the 4th installment of our "Demystifying Harrisburg" series: Right to Know and Media Coverage. Panelists will discuss how to get information from or about state government.
Government agencies and departments are funded by taxpayers and information about how those resources are spent belongs to you. This event will teach you how to file a "Right to Know" request. Experts will share tips for filing effective submissions, so you get the information you're looking for.
This event will also discuss how the news media covers the legislature and state government. Reporters are watchdogs and keep the public informed about government activity. A panel of media experts will discuss how news coverage works at the capitol.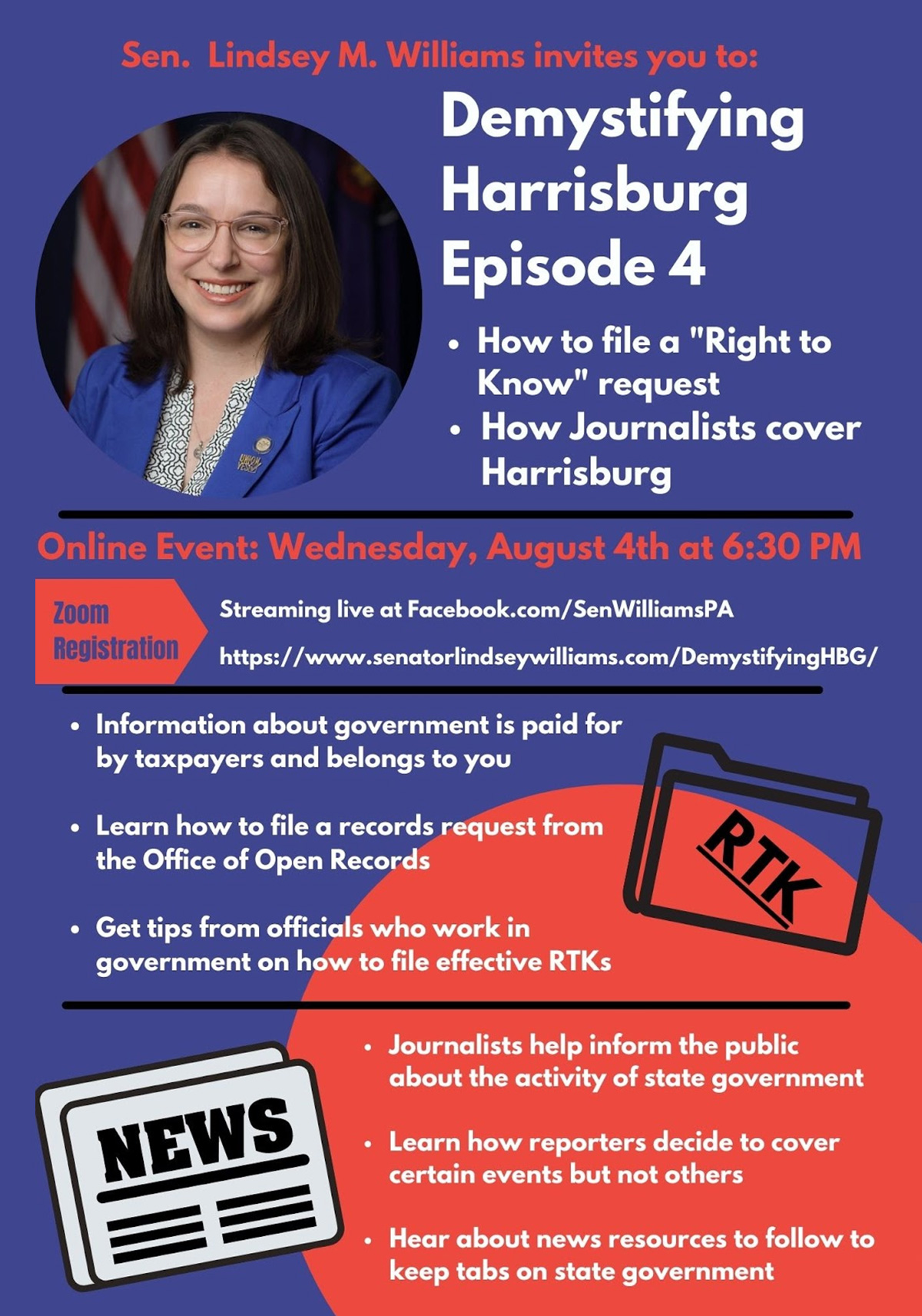 Demystifying Harrisburg: The Budget Process
On June 29, Senator Lindsey Williams held the third installment of our Demystifying Harrisburg Event, Part III: The Budget Process. What is the budget? What are code bills? Why does it matter? Don't miss the THRILLING third installment of this educational saga, our very own "Return of the Jedi," but with more spreadsheets and fewer lightsabers legislative process in Harrisburg.
Demystifying Harrisburg: Knowing the Rules and Tracking Legislation
On April 15, Senator Lindsey Williams, The Kidney Foundation, and Fair Districts PA hosted a comprehensive discussion of the current state of the legislative process in Harrisburg.