COVID-19 Information & Resources
Department of Health Resources
The spread of COVID-19 is a rapidly evolving situation statewide and in Allegheny County. Below, please find links to local, regional and state sites that can help you navigate health recommendations, closures, and resources. 
Economic Assistance:
Federal Information
Seniors
State Information
Regional Information
Education Resources
Social Services
Harrisburg, PA – Secretary of Health Dr. Rachel Levine today encouraged residents to join the more than 322,000 Pennsylvanians who have added their phones to the fight by downloading the COVID Alert PA mobile app. "I am encouraging everyone to wear a mask,...
read more
Federal Stimulus Package – 'Putting Workers First'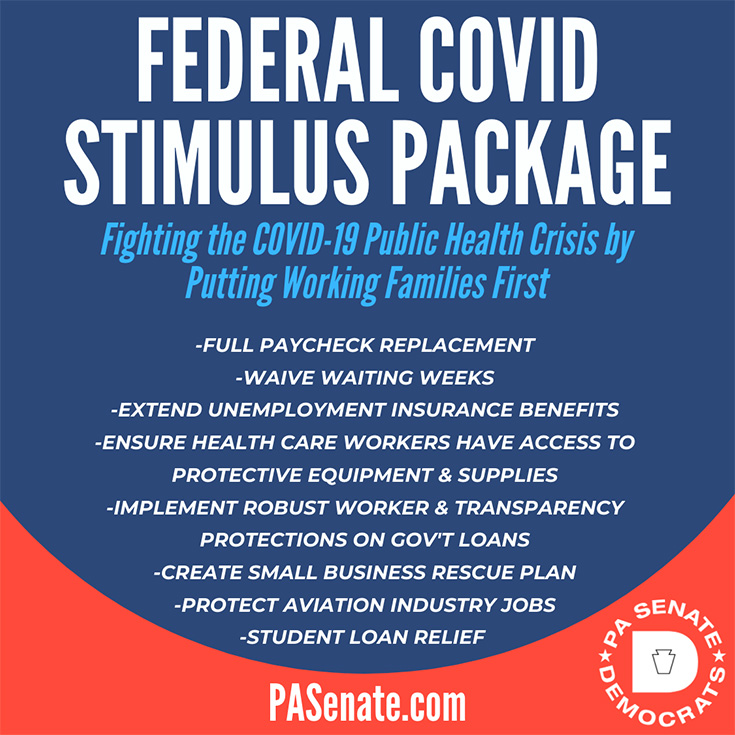 A bipartisan, robust third COVID-19 bill that will immediately bolster our health care response and our economy.
Unemployment Insurance: ($260 billion)
A massive investment in the UI program as well as critical reforms to make the program more effective for workers. In the wake of the economic recession caused by the coronavirus the UI program is an essential a long-term lifeline for millions of workers during this crisis.
Full Paycheck Replacement: $600 increase for every American, which equates to 100 percent of wages for the average American without a paycheck struggling through the Crisis
Waiving Waiting Weeks: Gets money in people's pockets sooner by providing federal incentives for states to eliminate waiting weeks.
Extension of Benefits: An additional 13 weeks of federally-funded unemployment insurance benefits are immediately be made available.
Expanding Access: Allow part-time, self-employed, and gig economy workers to access UI benefits.
Marshall Plan For Our Health System ($150 billion)
An unprecedented and historic investment for our health care system in its fight against the COVID-19 pandemic. The new $150 billion fund is widely available to all types of hospitals and providers most affected by COVID-19, and it will be available to fund whatever is needed to defeat this virus.
This includes:
Equipment and Infrastructure: Personal and protective equipment for health care workers, testing supplies, increased workforce and training, new construction to house patients, emergency operation centers and more.
Enhanced Health Investments: Additional funding is also dedicated to delivering Medicare payment increases to all hospitals and providers to ensure that they receive the funding they need during this crisis, and new investments in our country's Strategic National Stockpile, surge capacity and medical research into COVID-19.
Robust Worker and Transparency Protections on Government Loans
No stock buybacks or dividends for the length of any loan provided by the Treasury plus 1 year.
Restrictions on any increases to executive compensation.
Protect collective bargaining agreements.
Real-time public reporting of Treasury transactions under the Act, including terms of loans, investments or other assistance to corporations.
Prohibition on businesses controlled by the President, Vice President, Members of Congress, and heads of Executive Departments getting loans or investments from Treasury programs.
Creation of Treasury Department Special Inspector General for Pandemic Recovery to provide oversight of Treasury loans and investments and a Pandemic Response Accountability Committee to protect taxpayer dollars. • Creation of a Congressional Oversight Commission to enhance legislative oversight of pandemic response.
Small Business Rescue Plan ($377 billion)
$350 billion in loan forgiveness grants to small businesses and non-profits to maintain existing workforce and help pay for other expenses like rent, mortgage, and utilities.
$10 billion for SBA emergency grants of up to $10,000 to provide immediate relief for small business operating costs. • $17 billion for SBA to cover 6 months of payments for small businesses with existing SBA loans.

Protected Over 2 Million Aviation Industry Jobs
Democrats secured direct payroll payments to keep millions of airline workers on the job and receiving paychecks.
Airline companies will be prohibited from stock buybacks and dividends for the entire life of the grant plus one year.
Collective Bargaining Agreements negotiated by workers will be protected.

Increased Direct Payments to Working Americans
Democrats fought to double cash payments to the working class Americans from $600 to $1,200
An additional $500 cash payment is available per child.
The full payment is available for individuals making up to $75,000 (individual) and $150,000 (married).
The value begins decreasing and then phases out completely for those making over the full payment income cap.
State and Local Coronavirus Expenditures Fund ($150 billion)
To assist States, Tribes, and local governments that must pay for new expenses related to COVID-19 response.
$150 billion, with a small-state minimum of $1.25 billion
Tribal set-aside of $8 billion
Emergency Appropriations ($330 billion, including $100 billion for hospitals and providers mentioned above)
$16 billion to replenish the Strategic National Stockpile supplies of pharmaceuticals, personal protective equipment, and other medical supplies, which are distributed to State and local health agencies, hospitals and other healthcare entities facing shortages during emergencies.
$1 billion for the Defense Production Act to bolster domestic supply chains, enabling industry to quickly ramp up production of personal protective equipment, ventilators, and other urgently needed medical supplies, and billions dollars more for federal, state, and local health agencies to purchase such equipment.
$4.3 billion to support federal, state, and local public health agencies to prevent, prepare for, and respond to the coronavirus, including for the purchase of personal protective equipment; laboratory testing to detect positive cases; infection control and mitigation at the local level to prevent the spread of the virus; and other public health preparedness and response activities.
$45 billion for FEMA's Disaster Relief Fund, more than doubling the available funding, to provide for the immediate needs of state, local, tribal, and territorial governments, as well as private non-profits performing critical and essential services, to protect citizens and help them recover from the overwhelming effects of COVID-19. Reimbursable activities may include medical response, personal protective equipment, National Guard deployment, coordination of logistics, safety measures, and community services nationwide.
$30.75 billion for grants to provide emergency support to local school systems and higher education institutions to continue to provide educational services to their students and support the on-going functionality of school districts and institutions.
$25 billion in aid to our nation's transit systems to help protect public health and safety while ensuring access to jobs, medical treatment, food, and other essential services.
$10 billion in grants to help our nation's airports as the aviation sector grapples with the most steep and potentially sustained decline in air travel in history.
$3.5 billion in additional funding for the Child Care Development Block Grant to provide child care assistance to health care sector employees, emergency responders, sanitation workers, and other workers deemed essential during the response to the coronavirus.
More than $7 billion for affordable housing and homelessness assistance programs. This funding will help low-income and working class Americans avoid evictions and minimize any impacts caused by loss of employment, and child care, or other unforeseen circumstances related to COVID-19, and support additional assistance to prevent eviction and for people experiencing homelessness
More than $6.5 billion in Federal funding for CDBG, the Economic Development Administration, and the Manufacturing Extension Partnership to help mitigate the local economic crisis and rebuild impacted industries such as tourism or manufacturing supply chains.
$400 million in election assistance for the states to help prepare for the 2020 election cycle, including to increase the ability to vote by mail, expand early voting and online registration, and increase the safety of voting in-person by providing additional voting facilities and more pollworkers. • $2 billion in funding to strengthen response capacity and support tribal governments: o $1.03 billion to the Indian Health Service to support tribal health care system response efforts; o $100 million more for the USDA Food Distribution Program for Indian Reservations; o $453 million to assist tribes through the Bureau of Indian Affairs; o $69 million to help tribal schools, colleges and universities through for the Bureau of Indian Education; and o $300 million more to the HUD Indian Tribal Block Grant program. • $1 billion to recapitalize Amtrak after steep ridership declines related to the outbreak. This will keep thousands of Amtrak employees employed, and ensure America's intercity passenger rail stays on track, continuing service in the Northeast and nationwide.
Student Loan Relief
To alleviate the pressure of student loan costs during this crisis, Senate Democrats fought for the inclusion of tax relief encouraging employers to implement student loan repayment programs. This provision will exclude up to $5,250 in qualifying student loan repayments paid by the employer on behalf of the employee from income for income tax purposes.
Some helpful links to understand the Federal Stimulus Package:
Status of your stimulus check
Most Americans can expect to start seeing their stimulus checks from the coronavirus relief bill in about three weeks, according to Treasury Secretary Steven Mnuchin.
Singles who have adjusted gross income of less than $75,000 would get $1,200 and married couples who file taxes jointly and earn less than $150,000 would get $2,400. Singles who earn less than $99,000 and married couples who earn less than $198,000 would get a partial benefit.
The checks will be sent based your 2019 or 2018 adjusted gross income on your tax return. If you haven't filed a tax return, you should file a tax return quickly if you can. The IRS will also access information from Social Security to send the payments.
But what if the IRS can't track you down to send you a stimulus check?
All is not lost. Just delayed.
If you don't receive your check, you'll see the benefit as a tax refund when you file your return in 2020.
That's because the funds from the stimulus check are actually an advance on a credit you will be able to take on your 2020 tax return.
So while the funds are meant to give relief now, if you don't get it, you can still take the credit on your 2020 return and you'd get the stimulus amount in the form of a tax refund, said Garrett Watson, senior policy analyst for The Tax Foundation..
Still not sure if you qualify? Use the stimulus check calculator to see what benefit you can expect.
(Source:  https://www.nj.com/coronavirus/2020/03/heres-what-you-need-to-know-if-your-stimulus-check-doesnt-arrive.html)
 Some helpful links to understand the Federal Stimulus Package:
COVID-19 Relief Statewide Small Business Assistance Grants
The Pennsylvania Department of Community & Economic Development (DCED) last week announced that program guidelines and additional details for the COVID-19 Relief Statewide Small Business Grants are now available on DCED's website.
Under the program, $225 million is available for COVID-19 relief to small businesses through a distribution to Community Development Financial Institutions (CDFIs) for loan payment deferment and portfolio loan loss reserves, main street business revitalization grants, and historically disadvantaged business revitalization grants.
The funds will be available through three programs:
$100 million for the Main Street Business Revitalization Program for small businesses that experienced loss as a result of the governor's March 19, 2020 order relating to the closure of all non-life-sustaining businesses and have or will incur costs to adapt to new business operations related to COVID-19;
$100 million for the Historically Disadvantaged Business Revitalization Program for small businesses that experienced loss as a result of the business closure order, have or will incur costs to adapt to new business operations related to COVID-19, and in which socially and economically disadvantaged individuals own at least a 51 percent interest and also control management and daily business operations.
$25 million for the Loan Payment Deferment and Loss Reserve Program, which will allow the CDFIs the opportunity to offer forbearance and payment relief for existing portfolio businesses that are struggling due to the impact of COVID, as well as shore up the financial position of the CDFIs that are experiencing significant increased defaults in their existing loan portfolios.
Eligible businesses with 25 or fewer employees may receive a maximum grant of $50,000 so long as the business was in operation on February 15, 2020 and, if required, paid income taxes to the state and federal government, as reported on individual or business tax returns; COVID-19 has had an adverse economic impact and makes this grant request necessary to support the ongoing operations of the applicant; the grant will be used cover COVID-19 related costs; and during the period beginning on June 1, 2020 and ending on December 31, 2020, the applicant has not and will not receive another grant under this state program.
For more information about the Department of Community and Economic Development (DCED), visit the DCED website.
COVID-19 Loan Programs Quick Guide
The information provided is not comprehensive of each program or of all programs. At the time of publication it is the most accurate and up-to-date information available. Information and programs are subject to change. (March 27, 2020)
Bridgeway Capital Loans
During the COVID-19 pandemic, Bridgeway's patient, flexible capital and free technical assistance is available to help small businesses stay resilient when facing business disruptions and changing cashflows. Financing solutions and loan modifications are tailored to the needs of your small business. Bridgeway's financing is designed to work with credit challenges, collateral gaps, and complex transactions in need of creative funding solutions.
ELIGIBILITY Minority-, woman-, immigrant- or veteran-owned businesses, businesses in economically distressed urban and rural areas, and businesses unable to access traditional bank financing, real estate developers with affordable residential or commercial projects in low-income communities, or nonprofits in need of capital for real estate projects or refinancing.
FUNDING $5,000–$3,000,000. Average loan is $250,000.
TERMS Flexible terms on short- and long-term loans. Loans can be used for: Working capital to start-up or expand your business, purchase equipment, or real estate acquisition or renovation.
INTEREST Competitive fixed rates.
Paycheck Protection Program (CARES Bill)
This program incentivizes small businesses to keep employees on payroll by offering extensive debt relief for small employers, self-employed individuals, and "gig economy" workers. With $350 billion to help prevent workers from losing their jobs and small businesses from going under due to economic losses caused by the COVID-19 pandemic, the "Paycheck Protection Program" would provide 8 weeks of cashflow assistance through 100% federally guaranteed loans to small employers who maintain their payroll during this emergency.
NOTE Program Details are still being finalized. Borrower cannot claim same loss using multiple programs.
ELIGIBILITY Small businesses, 501(c)(3)'s, 501(c) (19)'s, and 31(b)(2)(c), under 500 employees, including independent contractors, sole proprietors, and the self-employed. Entities must have been operational by 2/15/20, had payroll and paid taxes.
FUNDING Maximum amount via 7(a) set to $10,000,000.
TERMS Covered loan period is 2/25/20–6/30/20. Portion not forgiven or repaid by 12/31/20 will convert to a max 10 year loan at up to max interest rate; loan will remain 100% guaranteed.
Eligible expenses include payroll, insurance, rent, mortgage and utilities.
Defers payments on PPP loan for 6-12 months. No prepayment fees.
Waives borrower and lender fees, credit elsewhere requirements, and collateral and personal guarantee.
INTEREST Maximum interest rate is 4%.
TO APPLY https://www.sba.gov/funding-programs/loans/paycheck-protection-program-ppp
Emergency Injury Disaster Loan (EIDL)
The U.S. Small Business Administration is offering states and territories low-interest federal disaster loans for working capital to small businesses suffering substantial economic injury as a result of the Coronavirus (COVID-19).
NOTE Entities eligible to apply for EIDL may request an advance in the form of an emergency grant of up to $10,000 which SBA must distribute within 3 days. Applicants are not required to repay emergency grant if they are ultimately denied EIDL.
ELIGIBILITY Expanded to include sole proprietors, tribal businesses, cooperatives, ESOP's, individual contractors, and private non-profits with fewer than 500 employees.
FUNDING The maximum loan amount is 2,000,000.
TERMS Max 30 year (determined on case-by-case basis)
May be used to pay fixed debts, payroll, accounts payable and other bills impacted by disaster.
Defers payments on PPP loan for 6-12 months. No prepayment fees.
For loans/advances under $200,000, waives credit elsewhere, personal guarantee, and 1-year-inbusiness requirements.
INTEREST Small businesses: 3.75%; non-profits: 2.75%.
TO APPLY https://disasterloan.sba.gov/ela/
Urban Redevelopment Authority (URA)
For Current URA Borrowers
The URA recognizes the potential hardships and needs small businesses are facing and may face due to COVID-19. We want to reassure our small business borrowers that we are here to work with you.
NOTE The URA is taking steps to help mitigate the unprecedented potential ramifications of COVID-19. The URA is halting ALL loan payments for URA small business borrowers, including automatic loan payment withdraws from borrower's accounts, for the month of April 2020. The URA is taking steps to help mitigate the unprecedented potential ramifications of COVID-19. The URA is halting ALL loan payments for URA small business borrowers, including automatic loan payment withdraws from borrower's accounts, for the month of April 2020.
The URA is offering to its existing small business borrowers Emergency Extended Credit to help ease potential cash flow issues over the next several weeks.
ELIGIBILITY Available to existing URA small business borrowers ONLY.
FUNDING Up to an additional $15,000. TERMS 3-year term, 6 months no payments, 2 ½-year full amortization.
INTEREST 0% interest rate, no fees.
TO APPLY https://tinyurl.com/uracovidloan
Provide a Statement of Need for additional credit.
Provide previous 1-month cash flow statement.
For Non-URA Borrowers
The URA is temporarily easing and streamlining its Micro-Enterprise Loan Program to support up to thirty 0% loans for small businesses that are not currently URA borrowers.
NOTE Given potential high demand for this program, the URA will make every effort to underwrite and approve applications as quickly as possible.
COVID-19 Small Business Assistance Loan Program
ELIGIBILITY For existing small businesses (not startups) located in the City of Pittsburgh.
FUNDING Up to an additional $15,000.
TERMS 3-year term, 6 months no payments, 2 ½-year full amortization. • Loan proceeds may be used for rent, payroll, and other approved fixed monthly business expenses
INTEREST 0% interest rate, no fees
TO APPLY https://tinyurl.com/uracovidloan
Provide a Statement of Need for additional credit.
Provide previous 1-month cash flow statement.
Small Business Loan
The Federal Small Business Administration (SBA) and the Pennsylvania Department of Community and Economic Development (DCED) are working to provide Disaster Assistance Loans for Small Businesses Impacted by Coronavirus (COVID-19).
Small Business Disaster Loan Assistance (SBA)
The U.S. Small Business Administration, in addition to local funding partners, may also be a source of assistance for affected businesses with funding opportunities up to $2 million. Learn more on how to apply here.
The Small Business Administration has just opened their applications for Disaster Loan Assistance. Small businesses can apply at https://disasterloan.sba.gov/ela/.
SBA disaster loans offer an affordable way for individuals and businesses to recover from declared disasters. The interest rate is 3.75% for small businesses without credit available elsewhere; businesses with credit available elsewhere are not eligible. The interest rate for non-profits is 2.75%.  As a small business, small agricultural cooperative, small business engaged in aquaculture, or private non-profit organization you may borrow up to $2 million for Economic Injury. Applicants may also call SBA's Customer Service Center at (800) 659-2955 or email disastercustomerservice@sba.gov for more information on SBA disaster assistance.
Essential Agriculture Businesses
The PA Department of Agriculture has developed the following guidelines and recommendations for essential agricultural businesses to help ensure a safe and accessible food supply during the COVID-19 mitigation efforts:
Unemployment Compensation Temporary Changes & Updates
Workers in Pennsylvania who are impacted by COVID-19 may be eligible for Unemployment and Workers' Compensation benefits – Unemployment compensation claims should be submitted online for faster processing.
The following information that has been provided by the Department of Labor and Industry regarding Unemployment Compensation:
Governor Wolf has temporarily suspended the waiting-week requirement in Section 401(e) of the UC Law.   With this suspension, a claimant can immediately file for benefits, and the first week of unemployment will be a compensable week. The suspension of this section will also be in effect for the length of the emergency declaration.
The provisions of the emergency declaration allow the Governor to immediately suspend the work registration and work search requirements in Unemployment Compensation Law and adopted Regulations and the Governor has temporarily suspended these requirements for the length of the emergency declaration.
The PA UC Law allows for employers to be relieved of charges for compensation once there has been a federal disaster declaration under the Stafford Act and the individuals would have been eligible for Disaster Unemployment Assistance. Therefore, an employer may be relieved from charges for compensation paid to an individual with respect to any week of unemployment occurring due to COVID-19.
Applying online is the fastest and easiest way to get started. You can find call center hours and other vital info at www.uc.pa.gov; learn all UC benefit requirements by visiting the self-service guide; or use UC LiveChat.
If you are having difficulty filing a claim or not being able to through to someone if you need direct assistance from Unemployment Compensation, please contact my office.
Pandemic Unemployment Assistance
Pandemic Unemployment Assistance (PUA) provides payment to workers not traditionally eligible for unemployment benefits (self-employed, independent contractors, workers with limited work history, and others) who are unable to work as a direct result of the coronavirus public health emergency.
Covered:
Diagnosed with COVID-19 or with COVID-19 symptoms and seeking diagnosis
Member of household has been diagnosed with COVID-19
Providing care for family or household member diagnosed with COVID-19
Primary caregiver for child unable to attend school or another facility closed due to COVID-19
Unable to reach place of employment due to an imposed quarantine or because advised by medical provider to self-quarantine due to COVID-19
Scheduled to commence new employment and cannot reach workplace as direct result of COVID-19
Became major breadwinner because head of household died from COVID-19
Quit job as a direct result of COVID-19
Place of employment closed as a direct result of COVID-19
Self-employed / Independent Contractors / 1099 filers / Farmers – and affected by COVID-19
Seeking part-time employment but affected by COVID-19
With insufficient work history and affected by COVID-19
Otherwise not qualified for regular or extended UI benefits and affected by COVID-19
Not Covered:
Individuals that can telework with pay
Individual receiving paid sick leave or other paid leave benefits (regardless of meeting a category listed above)
Important Links:
Federal CARES Act
On Friday, Governor Wolf announced that the Pennsylvania Department of Labor & Industry is implementing new federal unemployment compensation benefits provided by the Coronavirus Aid, Relief, and Economic Security (CARES) Act. The COVID-19 relief package temporarily provides an additional $600 per week, makes self-employed, independent contractors and gig workers eligible for benefits and extends unemployment compensation (UC) benefits for an additional 13 weeks. The federal benefits are in addition to Pennsylvania's regular unemployment benefit, which is about half of a person's full-time weekly income up to $572 per week for 26 weeks.
As part of the CARES Act, unemployment benefits are being expanded to provide an additional $600 per week beginning the week ending April 4, 2020, through the week ending July 25, 2020. This temporary emergency increase in benefits is referred to as the Federal Pandemic Unemployment Compensation (FPUC) program.
On Friday, Labor & Industry issued the first $600 payments. All eligible claimants that filed biweekly claims for the week ending April 4 and who received their regular UC payment should expect to see the additional money either today or Wednesday. For other eligible claimants who have not yet received a regular UC payment, they will receive the extra $600 the week after receiving their first UC payment.
It is very important to note that anyone who currently has federal withholding tax taken out of their benefits will see the same 10% reduction in the FPUC payment, resulting in a $540 payment. For information about changing your withholding election, visit L&I's Taxes on Benefits page.
The $600 is paid separately from the biweekly UC benefit, and residents do not need to apply.
Visit the department's FPUC frequently asked questions for more information.
The CARES Act also temporarily makes unemployment compensation available to self-employed, independent contractors, gig economy workers, and others not normally eligible for the benefit. The program is referred to as Pandemic Unemployment Assistance (PUA). These workers cannot apply through the department's UC online system at this time. The U.S. Department of Labor requires that PUA be tracked separately from regular UC. For this reason, Pennsylvania must build a new online platform to process PUA benefits.
Eligible individuals should be able to start applying for PUA benefits within the next two weeks. Eligible claimants will receive backdated payments to January 27, 2020, or the first week they were unable to work due to COVID-19, whichever of the two dates is later. The PUA benefit will end December 31, 2020. The department will announce when the PUA benefit application is available. Please visit L&I's PUA frequently asked questions for more information.
The CARES Act provides an additional 13 weeks of unemployment compensation, including for workers who exhaust their regular unemployment benefits. Claimants will be eligible for Pandemic Emergency Unemployment Compensation (PEUC) from the week beginning March 29, 2020, through the end of the year. The department is awaiting additional federal guidance about the program and will provide an update when information is available.
Additional Information for workers impacted by COVID-19:
Scenarios & Benefits
Mitigation efforts related to the Coronavirus (COVID-19) in Pennsylvania have required everyone to work within rapidly changing, complex circumstances which create a variety of unique situations and conditions for workers, businesses, employers and communities. The Pennsylvania Department of Labor & Industry is committed to providing workers and business communities with ongoing guidance, resources, and information. This page is updated regularly.
Use our Keep Yourself Safe at Work During a COVID-19 Pandemic one-pager for safety information and resources.
Workers impacted by COVID-19 can also visit our Information for Pennsylvania Employees Impacted by COVID-19 page for the latest updates.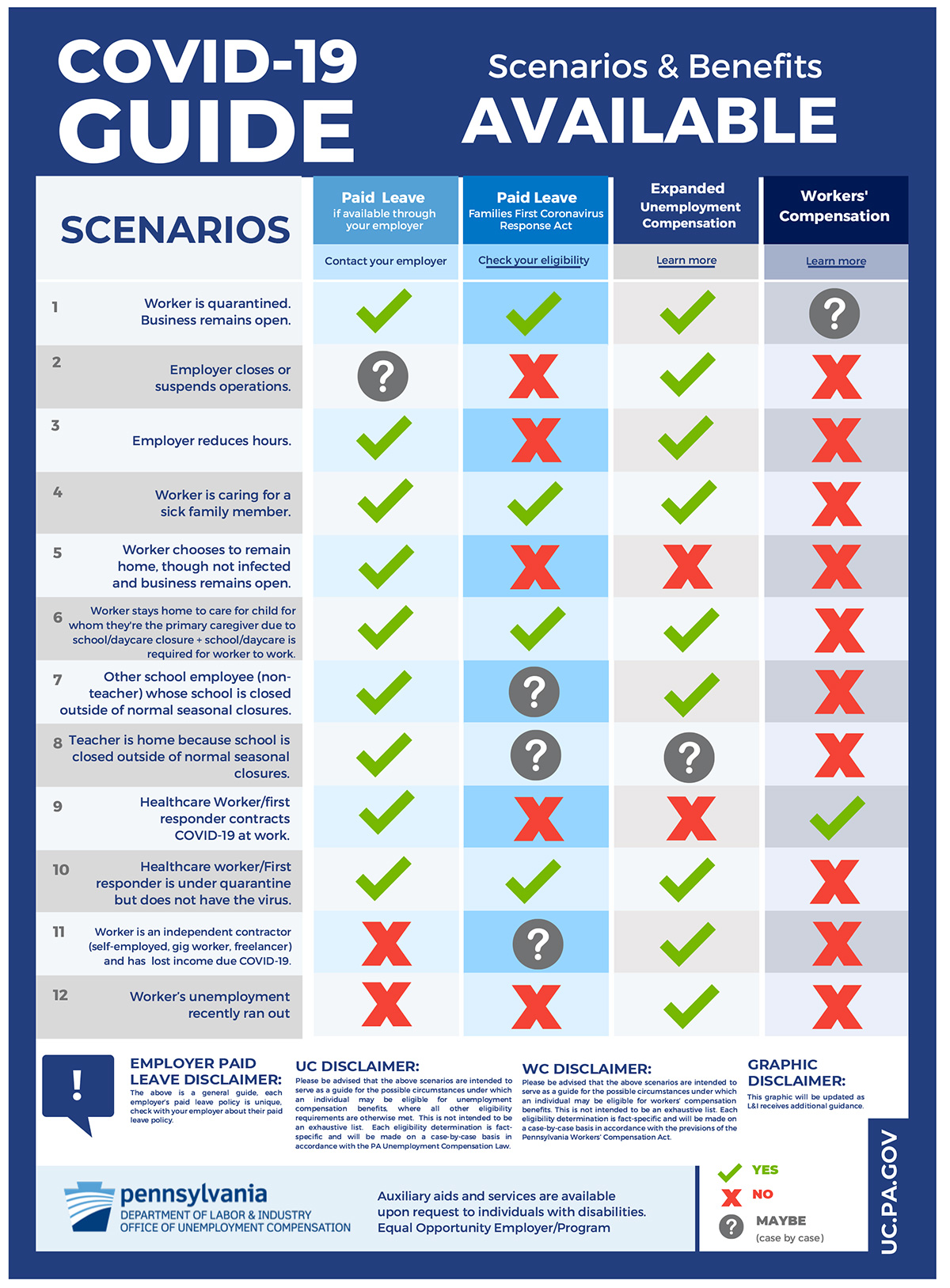 Workers that are unable to work because of COVID-19 may be eligible for UC ​​benefits or WC benefits. The following information is now available on the department's website​:
UNEMPLOYMENT COMPENSATION (UC) BENEFITS
You may be eligible if:
Your employer temporarily closes or goes out of business because of COVID-19
Your employer reduces your hours because of COVID-19
You have been told not to work because your employer feels you might get or spread COVID-19
You have been told to quarantine or self-isolate, or live/work in a county under government-recommended mitigation efforts
Apply:
Onl​​ine – it's the fastest and easiest way to get started
Important info:
If you are eligible for UC, you will receive two approval letters and a four-digit PIN
Your PIN will arrive in the U.S. mail – keep it in a safe, easy to remember place
If approved, your first benefit payment should arrive within four weeks of filing for UC
Continue filing your bi-weekly claim (every two weeks) – even while waiting for approval
Find call center hours and other vital info at uc.pa.gov; learn all UC benefit requirements by visiting the self-service guide; or use UC LiveChat
Economic Assistance:
Federal Information
Seniors
State Information
Regional Information
Education Resources
Social Services
Medical
Testing services for COVID-19
You will need a prescription from your doctor, and some providers are able to offer services virtually/over the phone.
If you're going to any medical facility in person, call before you go.
If you don't have a fever, you're not eligible for a screening… even if you've been traveling internationally, had a known exposure, etc.
For testing:
Allegheny County Health Department
State Hotline for COVID-19
No provider? Call: 1-877-PA-HEALTH
Have clinical questions? Call: 1-877-PA-HEALTH
Insurance Questions
All Medicaid, Medicare, and CHIP recipients will have testing and treatment covered.'
UPMC, Highmark, and Aetna will waive applicable deductibles, copayments, or other cost-sharing for COVID-19 testing when ordered by a member's treating medical provider.
Uninsured: refer to Metro Health Clinic (sliding scale); iHealth Clinic in East Liberty ($35 flat fee)
Democracy:
Local Community Resources
Community Org
Contact
Services and resources
Lawrenceville United
412-802-7220; Dave@LUnited.org or info@LUnited.org
● Lawrenceville "buddy system" for older adults or high-risk population sign-up

● Food box available for pick-up on Fridays (donations from Whole Foods Market and 412 Food Rescue)–call before noon to arrange a pickup

● Housing assistance

Bloomfield Development Corp.
(412) 681-8800; sam@bloomfieldpgh.org
● Assistance getting groceries or prescriptions to neighbors in need
Bloomfield Mutual Aid
● Bloomfield Mutual Aid Facebook Group

● Providing neighbor-to-neighbor services and support
City of Pittsburgh – all neighborhoods
● Pittsburgh Mutual Aid Spreadsheet
● Providing neighbor-to-neighbor services and support
Sharpsburg Neighborhood Org
● Sharpsburg Urgent Needs Assessment Survey
● Providing neighbor-to-neighbor services and support
North Hills Community Outreach
(412) 408-3830 ; 412-487-6316
● Emergency food services
Service Industry and Small Businesses
Childcare
Organization
Contact
Details
Circles – Greater Pittsburgh
Tammy Thompson
If you need a babysitter in order to go to work, please contact Tammy Thompson via email: tthompson@Circlespgh.org

Please provide the following:

1. Number of children you need care for

2. Age of child/children

3. The hours that you need care for them

4. Name of Employer

5. Community that you live in
Older Adults
Organization
Contact
Services
SeniorLine of Allegheny County
412-350-5460
SeniorLine staff members are highly-skilled care managers who will answer your questions, or help you begin the process of receiving services.
Meals On Wheels of Greater Pittsburgh
412-350-5460 or 412-350-4234 (after hours, weekends and holidays).
You must first call the Allegheny County Senior Line to determine your eligibility and get your meals started. This is your single point of entry. Be prepared to complete a short assessment over the phone.
Food/Nutrition
Organization
Contact
Information
Greater Pittsburgh Community Food Bank
(412) 460-3663
Pittsburgh Public Schools Students
For Pittsburgh students that depend on our school breakfast & lunch program, Grab & Go meals will be available at all 54 PPS school locations from 11:00 AM – 1:00 PM Monday through Friday. Students are instructed to go to the school location closest to their home.
412 Food Rescue
412.407.5287
Just Harvest
(9am-5pm) at (412) 431-8960 x602.
Assistance with SNAP and WIC benefit processing and applications
College Students
Organization
Contact
Details
Pitt Mutual Aid Society
Request housing, storage of belongings, etc
CMU Mutual Aid
To help our students and peers cope with the COVID-19 pandemic, this form allows students to identify needs and other members of the CMU community to offer support. This is not an official CMU program — it is a mutual-aid project of CMU community members.
Freelance/Artists
Financial Support
Organization
Contact
Details
Hebrew Free Loan Association – Pittsburgh
http://hflapgh.org/
Providing interest-free loans for those in need of a financial "bridge" to cover lost wages, childcare costs, businesses losses, and other challenges.
Homeless Prevention and Rapid Re-Housing Program (HUD)
+1 877-350-4777
The Homelessness Prevention and Rapid Re-Housing Program will provide financial assistance and services to prevent individuals and families from becoming homeless and help those who are experiencing homelessness to be quickly re-housed and stabilized. The funds under this program are intended to target individuals and families who would be homeless but for this assistance
Pittsburgh Presbyterian Lazarus
412-323-1400
Can offer at most $250 in one time assistance to help with rental evictions, pay utility bills, and even such expenses as medical bills
Veterans Leadership Program – Western PA
(412) 481-8200
Administers the Supportive Services for Veteran Families (SSVF). Veterans and their families can receive government grants to pay rent and information on permanent housing placement. Other programs include funds for security deposits for the homeless, transportation, shelter, and more.
Education